The most beautiful blood orange cocktail you ever did see. Use up your blood oranges with this fresh and simple Blood Orange Smash.
We Love Blood Oranges!
Blood orange has to be one of the most beautiful fruits on this earth and we're excited to share a simple blood orange cocktail.
You love our Blood Orange Margarita (I mean, look how gorgeous it is) and this cocktail is going to be just as good. It uses similar ingredients, but a different booze and no lime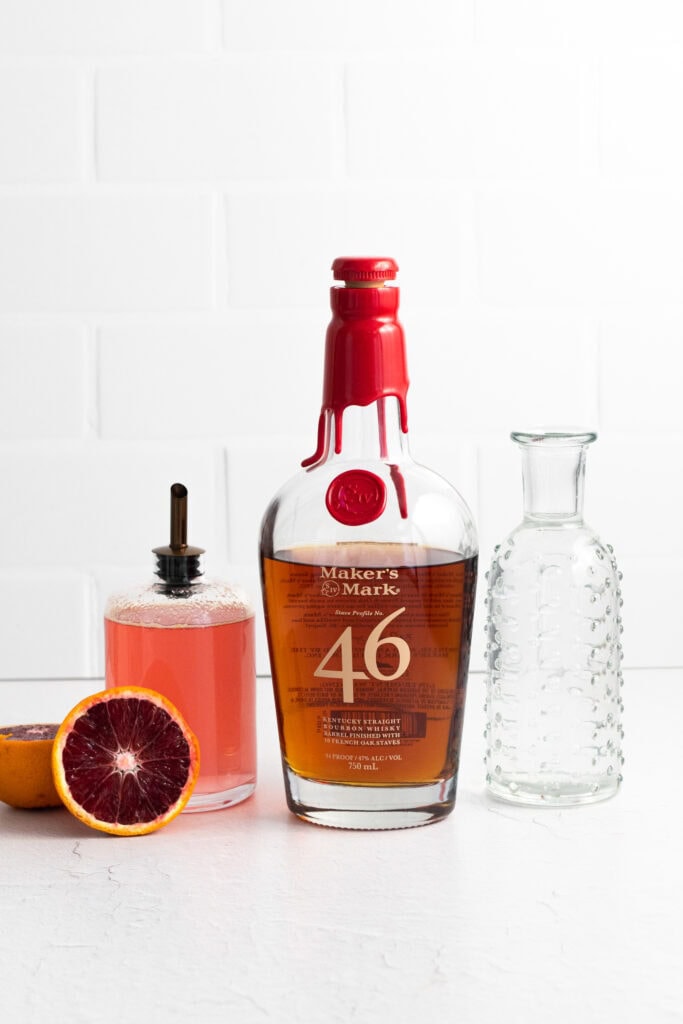 What You Need
A cocktail made with 4 basic ingredients. Heck yes! Here's what you need:
Juice: Don't have blood oranges? Feel free to swap for fresh orange juice.
Booze: this blood orange cocktail would also be delicious with vodka or gin. Swap 1:1.
Sweetener: a plain simple syrup would work just fine Or you can try our homemade honey simple syrup for an all-natural sweetener.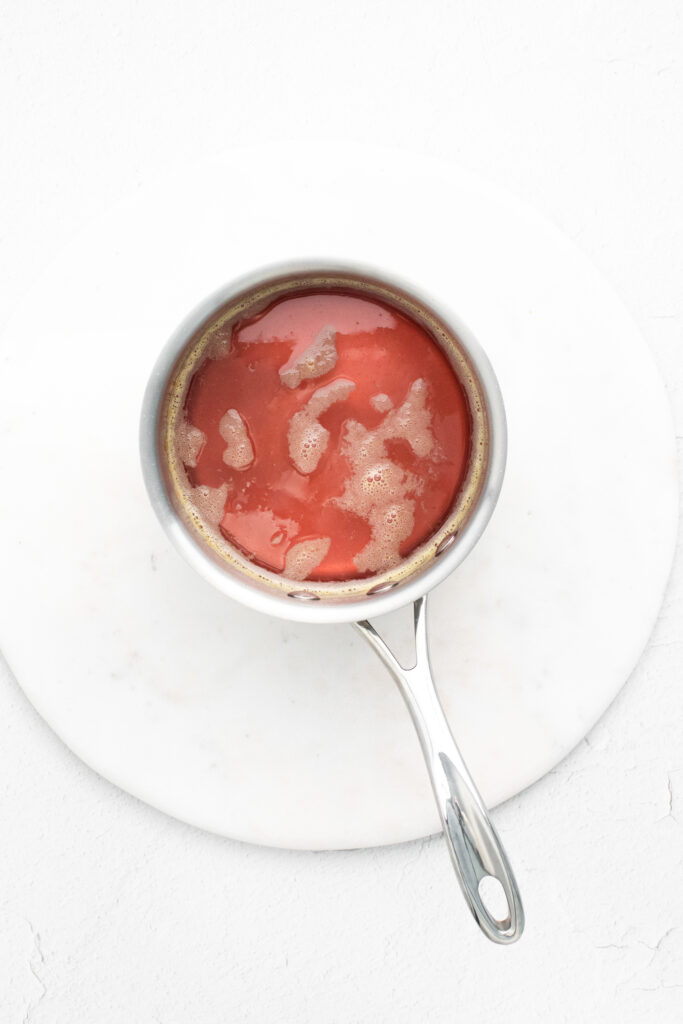 How to Make Blood Orange Simple Syrup
Simple syrup is such an easy thing to make at home. It sounds intimidating, but let me tell you, it's not!
Place water, sugar, and blood orange juice in a saucepan.
Bring to a boil and then turn to low and let simmer for 10 minutes to dissolve the sugar.
Turn heat off and let cool for 10 minutes. Once cool, transfer to an airtight container and chill.
Storage: Store blood orange simple syrup in an airtight container in the fridge for up to 2 weeks.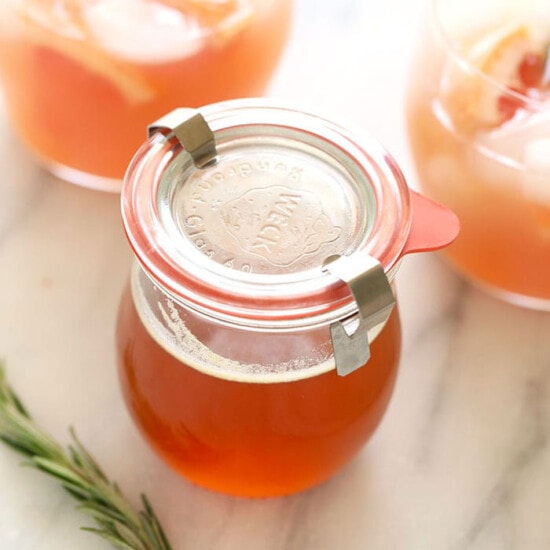 Try it!
Honey Simple Syrup
Our go-to honey simple syrup recipe is an excellent all-natural simple syrup and so easy to make. It's delicious in cocktails, lemonade, and even in some baking recipes!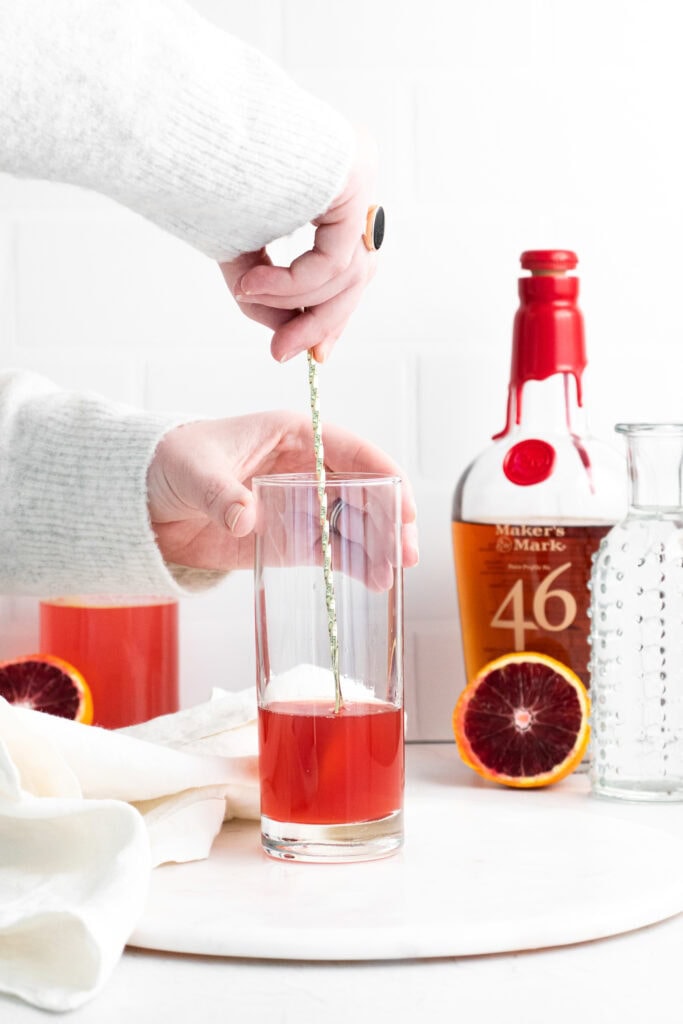 How to Make a Blood Orange Smash
Step 1: Make Simple Syrup – First, make your delicious blood orange simple syrup. See above for a quick tutorial.
Step 2: Mix Ingredients – Next, place all ingredients into a high ball glass and mix to combine.
Step 3: Add Ice – Fill glass with ice and mix again.
Step 4: Top with Club Soda – Finally, top off your orange cocktail with club soda, to taste.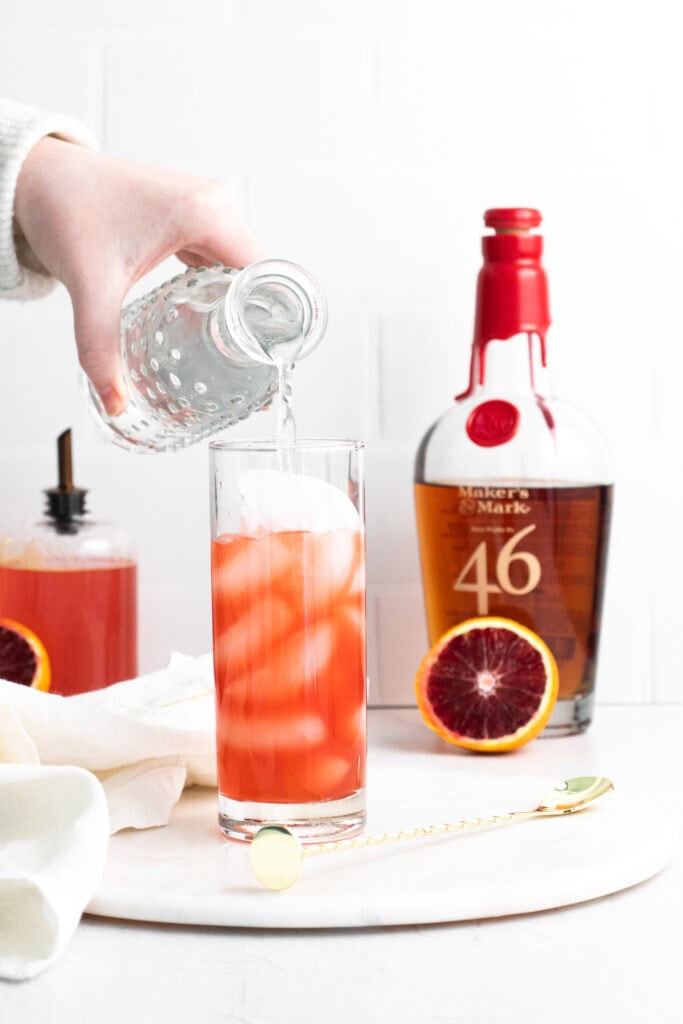 Can I batch make this cocktail?
To turn this single-serve cocktail into a pitcher, simply use our ingredient multiplier in the recipe card. Follow the recipe as is and then top each blood orange cocktail with club soda.
Can I turn this blood orange cocktail into a mocktail?
This is such a great drink to turn into a mocktail. Simply remove the bourbon and add more club soda. You can also add a few drops of bitters to spice it up a little.
Looking for a blood orange vodka cocktail?
Simple swap out the bourbon for vodka. It's equally as delicious!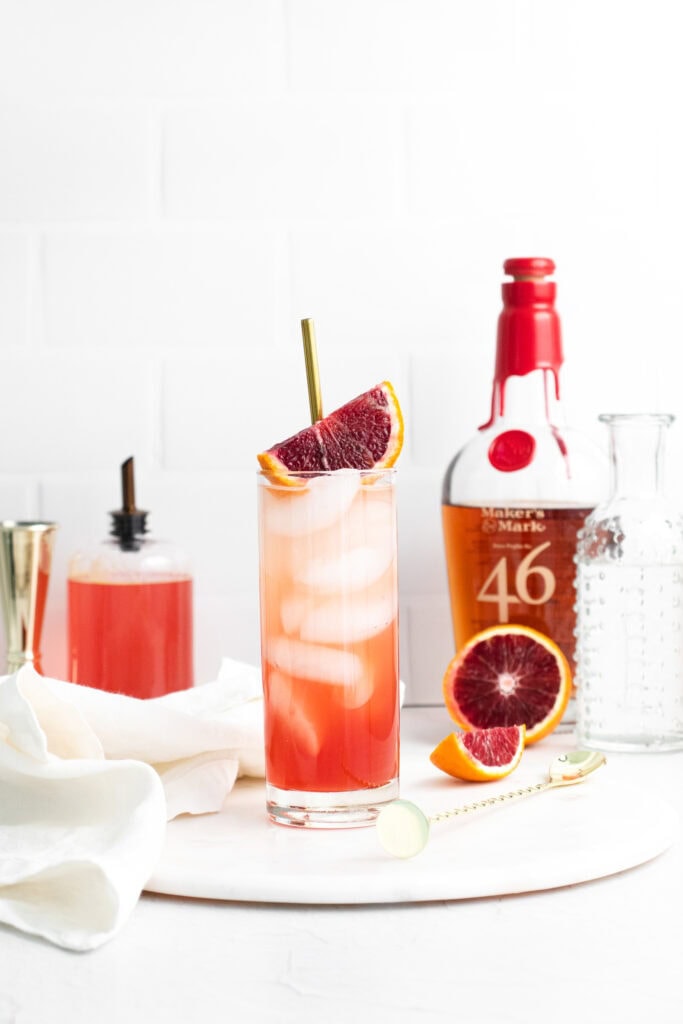 For the Blood Orange Simple Syrup
1 cup water
1 cup granulated sugar
1/2 blood orange, juiced (about 1/4 cup)
For the Blood Orange Smash
1/4 cup blood orange (2-oz.), ~1/2 blood orange, juiced
2-oz. bourbon
1/2-oz. blood orange simple syrup, or to taste
Club Soda, to taste (or seltzer water)
For the Simple Syrup
Add the water, granulated sugar, and blood orange juice to a medium saucepan.
Bring the mixture to a boil over medium/high heat and then simmer until the sugar has dissolved completely for about 8-10 minutes.
Remove from the heat and allow to cool for 15 minutes.
Strain the mixture through a fine-mesh sieve and transfer it to an airtight container.
Store in an airtight container in the refrigerator for up to 2 weeks.
For the Blood Orange Smash
Add the blood orange juice, bourbon, and simple syrup to a highball glass.
Stir to combine.
Fill the glass with ice and top with club soda.
Garnish with a slice of blood orange and serve immediately.
This blood orange cocktail is also delicious with vodka or gin.
We recommend using a bourbon that has vanilla and cinnamon notes— using a rye will result in a sharper bite.
Serving Size: 1
Calories: 183
Sugar: 7
Fat: 0
Carbohydrates: 8
Fiber: 0
Protein: 0
Author: Category: CocktailMethod: No-BakeCuisine: American
Keywords: blood orange cocktail