This is our personal take on a quick and delicious jambalaya recipe! You only need your ingredients and an Instant Pot to prepare this Instant Pot Jambalaya in less than an hour.
Instant Pot Jambalaya Made Easy
Have you ever wanted to make jambalaya at home but have never knew where to start? This is our personal take an jambalaya made easy in the Instant Pot!
Traditional and authentic jambalaya is a Creole rice dish that has been influenced by the West African, Spanish, and French cultures. It is that is typically made with rice, vegetables and meat.
There are many traditional ways to make jambalaya on the stove top, but today we are cutting time in half and putting our own spin on jambalaya with this delicious Instant Pot Jambalaya recipe!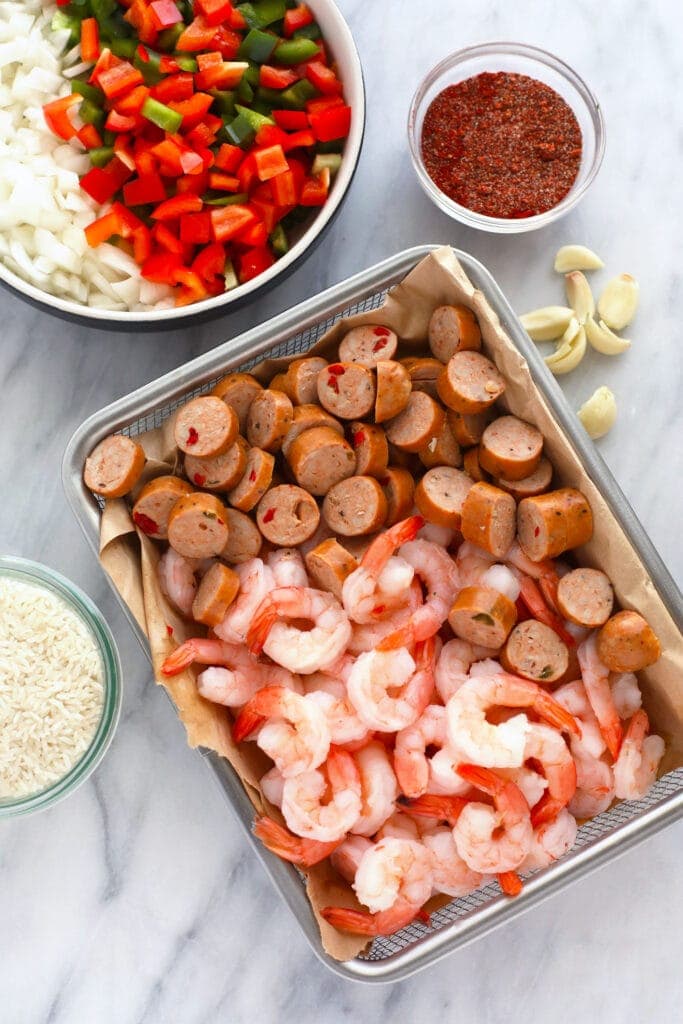 This Instant Pot Jambalaya has a very simple ingredient list! Let's take a look.
Shrimp- We used fully cooked, tail on shrimp for this recipe. You will just be steaming it to warm the shrimp at the end of the recipe so cooked is best.
Andouille sausage– Smoked andouille sausage is usually what is used in Jambalaya but we have tested this with chicken andouille sausage, too. Use your favorite pre-cooked sausage and it will work just fine!
Olive oil– You need a little oil to sauté your veggies!
Red + green bell pepper– Adding peppers adds delicious flavor, crunch, and a couple serving of veggies to this jambalaya.
White onion– Don't skip the onion! It is one of the base flavors of this recipe.
Garlic– We love garlic, feel free to add garlic cloves or pre-minced garlic.
Homemade cajun seasoning– We say homemade cajun seasoning because store bought cajun seasoning tends to be very spice. Check out our homemade cajun seasoning or go for store bough it you love the heat!
Long-grain white rice– You need uncooked long grain white rice for this recipe.
Diced tomatoes– Canned diced tomatoes will work just fine! You need the liquid to help cook the rice.
Chicken broth– Just like the diced tomatoes, you need chicken broth as your liquid to cook everything in the Instant Pot. Any kind of broth will do.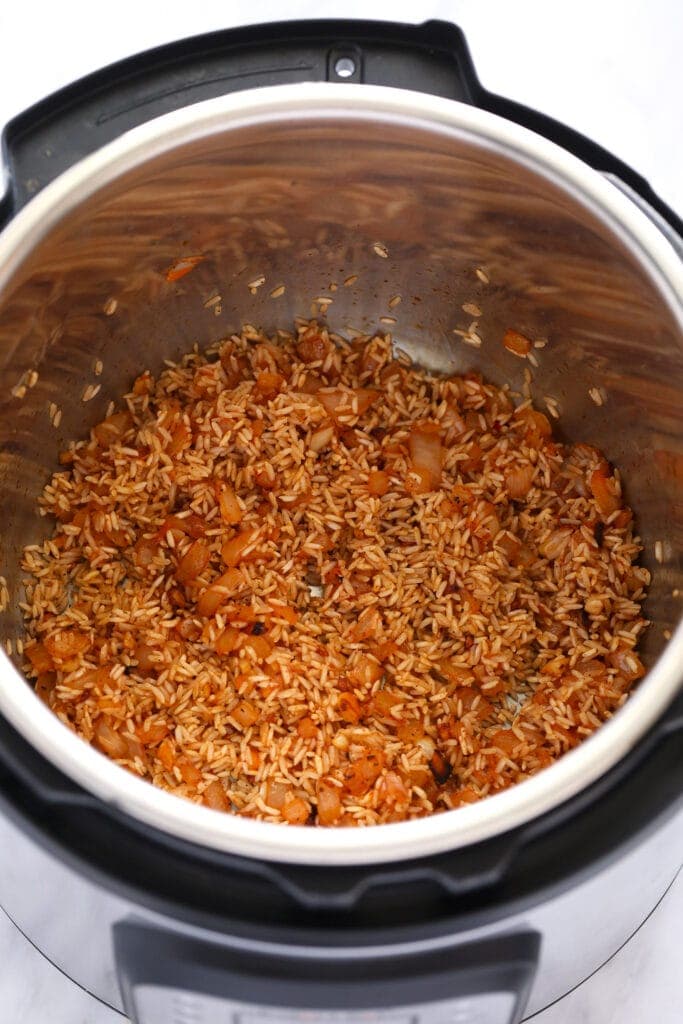 Make cajun seasoning. Mix all the spices together that the recipe calls for and set aside.
Season meat. Add the shrimp and sausage to a large bowl and toss them with 1 tablespoon of cajun seasoning. We do this to give some extra flavor to the meat before we steam it at the end of the recipe.
Add ingredients to Pot + Cook. Next, add all of the ingredients to the Instant Pot (except for the meat). Stir everything together and cover the Instant Pot. Cook everything on high pressure for 8 minutes. It will take 5-10 minutes for pressure to build up in the Instant Pot.
Quick Release Pressure. When the cook time is up, quick release pressure from the Instant Pot, uncover, and quickly pour the shrimp and sausage to the pot. Quickly mix everything together (trying to not let out a ton of steam). Cover.
Steam Meat. Let everything sit and steam in the Instant Pot for an additional 5 minutes.
Enjoy. Uncover and serve this Jambalaya with fresh cilantro or parsley and a fresh squeeze of lemon juice.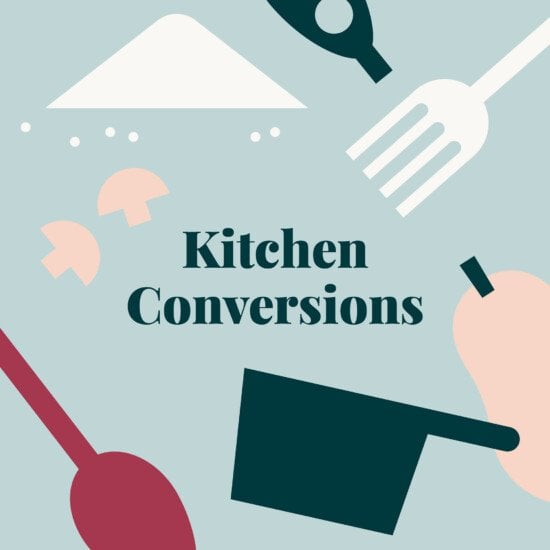 make it easy
Print Your Own
Keep common kitchen conversions like tablespoons to teaspoons and Fahrenheit to Celsius on hand at all times with our printable kitchen conversions chart.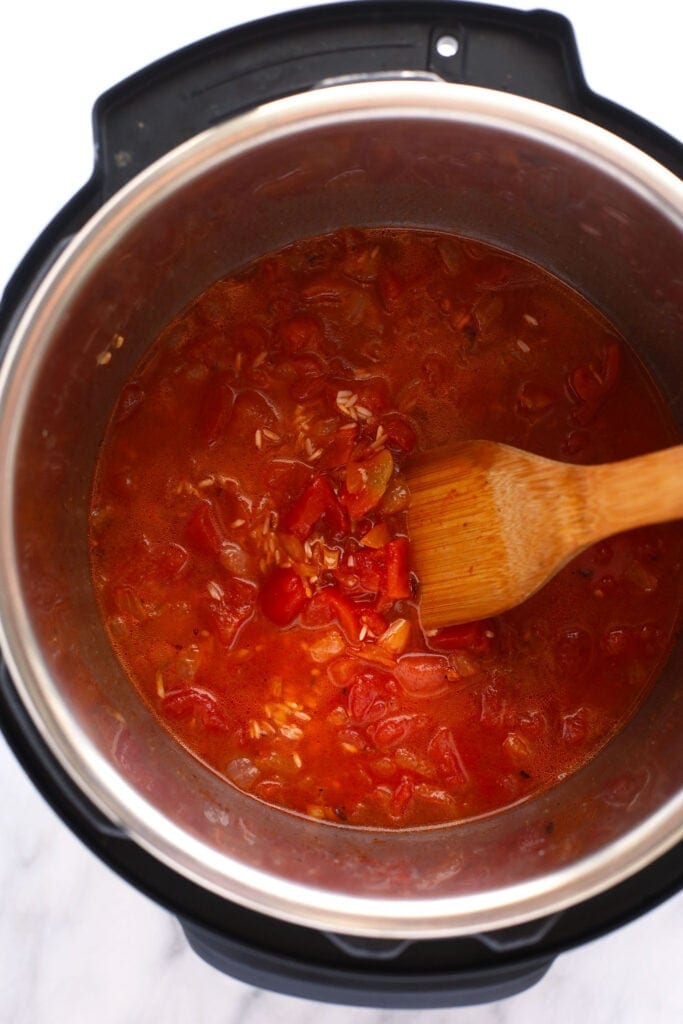 Tips + Tricks for Instant Pot Jambalaya
When you think about skipping out on steaming the meat, don't! Be sure to add the meat as quickly as you can to the Instant Pot and cover it for 5 minutes. You want your meat to be warm when you serve this for dinner!
If you like things served really hot, after your meat has steamed turn on the sauté feature on your Instant Pot and let everything heat up a bit more.
Traditionally, swiss chard, corn bread, okra, or collard greens are served with jambalaya.
If you'd like some Fit Foodie Finds recipe to serve along side this Instant Pot Jambalaya we recommend the recipes below!
We have not tested this recipe with brown rice! We recommend using long grain white rice.
Let the jambalaya cool completely before placing it in an air tight container. You can store the jambalaya in the fridge for up to 5 days.
We do not recommend freezing this jambalaya after you have cooked it. The rice will disintegrate in the liquid as it freezes.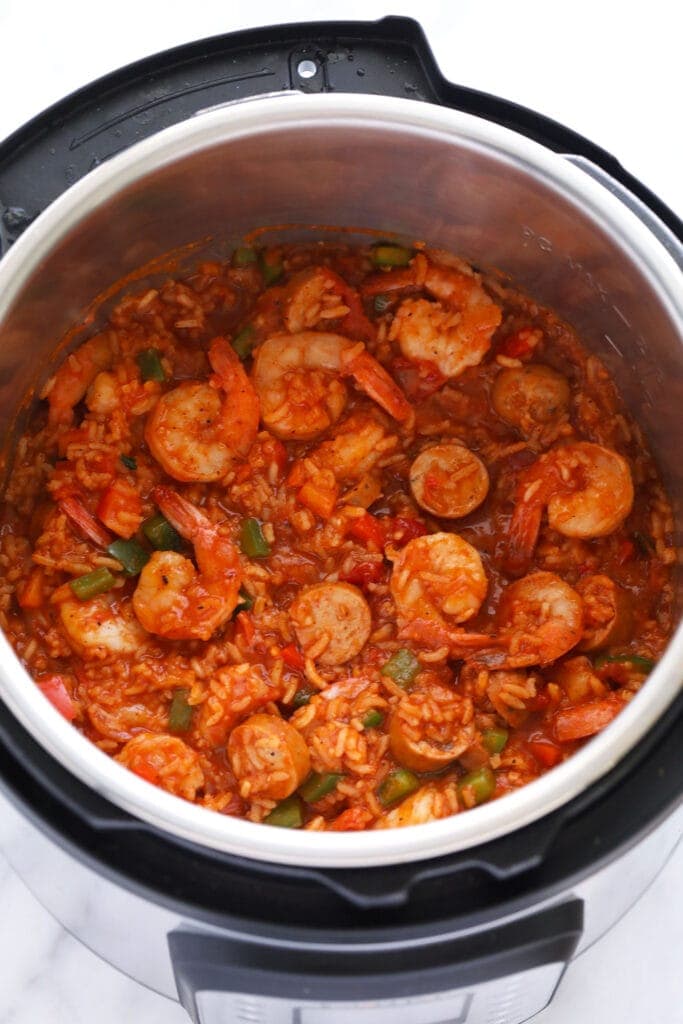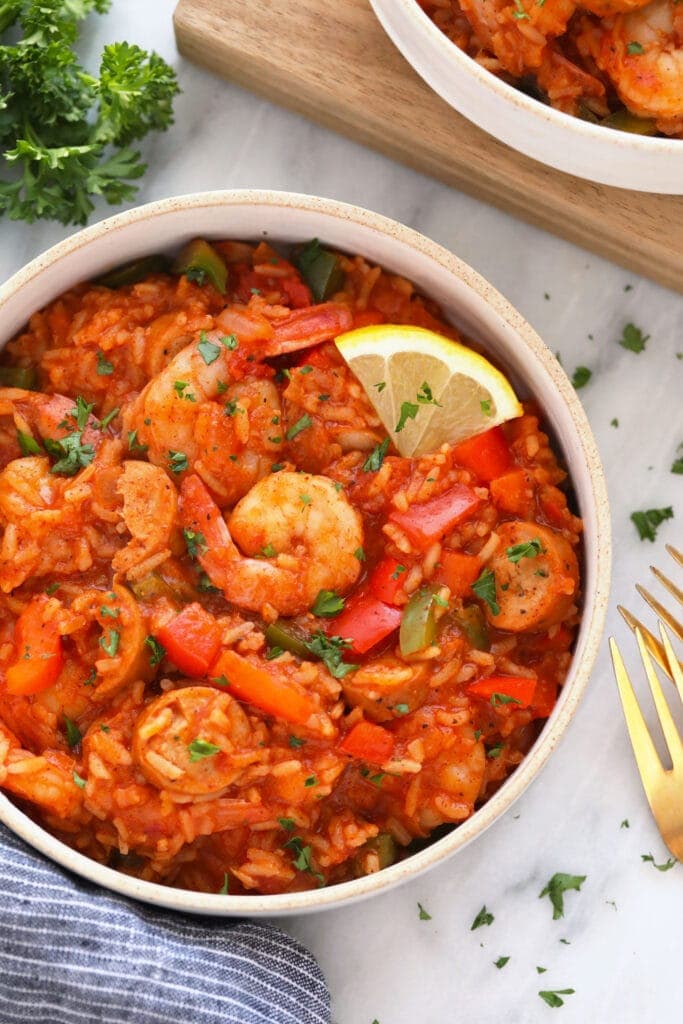 Cajun Seasoning*
1 tablespoon smoked paprika
1 teaspoon garlic powder
1 teaspoon onion powder
1 teaspoon chili powder
1 teaspoon light brown sugar
1/2 teaspoon dried oregano
1/4 teaspoon cayenne pepper
1/4 teaspoon salt, or more to taste
1/8 teaspoon ground pepper
Jambalaya
1-lb. cooked large shrimp, tail on
10-oz. fully cooked andouille sausage, sliced
2.5 tablespoons olive oil, divided
1/2 large white onion, minced
5 cloves garlic, smashed and minced
1 cup long-grain white rice
1 large red bell pepper, diced
1 large green bell pepper, diced
1 15-oz. can diced tomatoes
1.5 cups chicken broth
First, combine homemade the spices for the homemade cajun seasoning in a small bowl. Mix and set aside.
Then, add shrimp and andouille sausage to a large bowl and sprinkle on 1 tablespoon of cajun seasoning. Toss everything together and set it aside. 
Turn on the Instant Pot's saute feature. Then add olive oil. When olive oil is fragrant, add onion and garlic and saute for 3-5 minutes or until onions are translucent.
Turn off the saute feature and then add in white rice and mix. Add in peppers, 2 tablespoons of cajun seasoning, diced tomatoes, and chicken broth, and stir to combine.
Close the lid and cook on high pressure >> for 8 minutes.
Quick-release pressure from the Instant Pot and immediately uncover. Add shrimp and andouille sausage to the pot, mix to combine. Place the cover back on and let steam for 10 minutes.
Uncover the Instant Pot and mix and give it a taste. Adjust the salt as needed. Serve and enjoy.
Cajun seasoning – if you have our homemade cajun seasoning in your pantry, you'll need around 3 tablespoons of that.
If your sausage and shrimp are having a hard time warming up during the steaming process. Simply turn on the sauté feature and heat it up that way.
Serving Size: 1/6
Calories: 342
Sugar: 3
Fat: 19
Carbohydrates: 22
Fiber: 2
Protein: 19
Author: Category: DinnerMethod: Instant PotCuisine: Creole
Keywords: Instant Pot Jambalaya