This vegetarian ramen recipe is our take on an easy ramen recipe that is full of flavor, vegetables, and ready in an hour!
Our Take on Flavorful Ramen Soup
Say hello to our version of delicious ramen! This ramen is not a traditional ramen recipe, but is indeed inspired by all of the delicious ramen we've enjoyed and made over the years.
This ramen recipe is inspired by different ramen recipes we've enjoyed or made. Our goal for this recipe was to develop a seriously flavorful broth and by-golly I think we've done it.
This ramen recipe is a commitment, but don't shy away just because there is a longer recipe to follow! Though there is a longer method, it really easy a super easy recipe and you will not regret the time you put into it.
Please read the whole recipe before you start any part of the recipe!
I don't know about you, but one of our favorite parts of enjoying a bowl of ramen is the ramen eggs! YUM.
These ramen eggs are not your traditional ramen eggs. We soft boil the eggs and then soak them in a delicious marinade that will eventually be added to the broth base for the ramen.
If you would like a very detailed step-by-step on these ramen eggs and tips and tricks to perfecting them, check out our post on quick ramen eggs!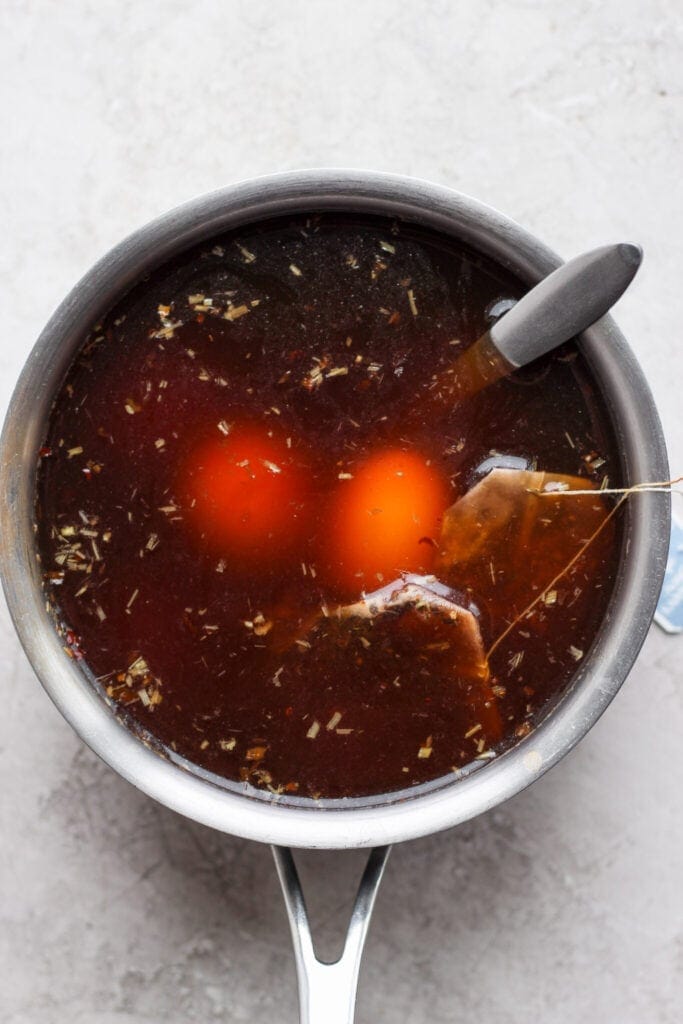 After the ramen eggs are soaking in the marinade it's time to prepare these delicious quick picked mushrooms that you will serve cold on top of your ramen.
We use a very similar method to pickle these mushrooms that we use for these quick pickled spicy peppers (which would also be a delicious topping for this ramen).
Prepare your beech mushrooms by wiping them clean to remove any dirt.
Add the rice vinegar, apple cider vinegar, red pepper flakes, and salt into a bowl and whisk everything together until the salt dissolves.
Add the mushrooms to the vinegar mixture and toss so that all the mushrooms are coated.
Let the mushrooms sit in the vinegar mixture until right before serving.
Yes, you can really use any mushrooms you'd like in this recipe. We recommend beech mushrooms or oyster mushrooms. However, you can use white mushrooms or bella mushrooms, just be sure to thinly slice them before tossing them into the vinegar.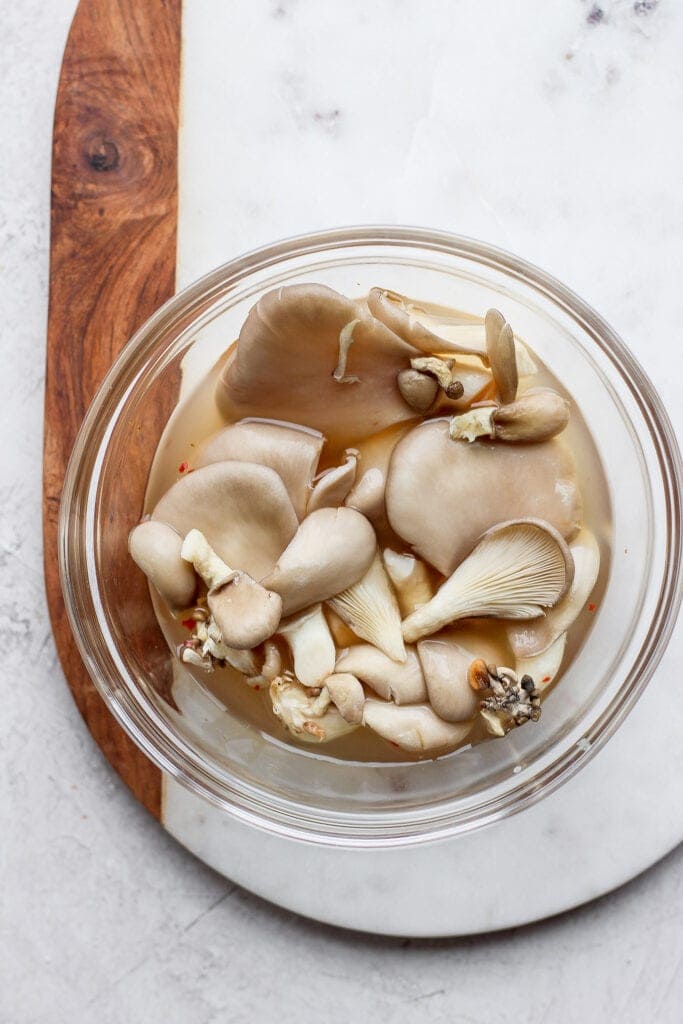 After your eggs and mushrooms are soaking, it's time to prepare the base for your ramen. This starts off by preparing the bok choy that will be served on top of the ramen right before serving.
What kind of bok choy do I use in this recipe?
We recommend using baby bok choy in this recipe! If you can't find baby bok choy by a large bok choy and slice it into pieces!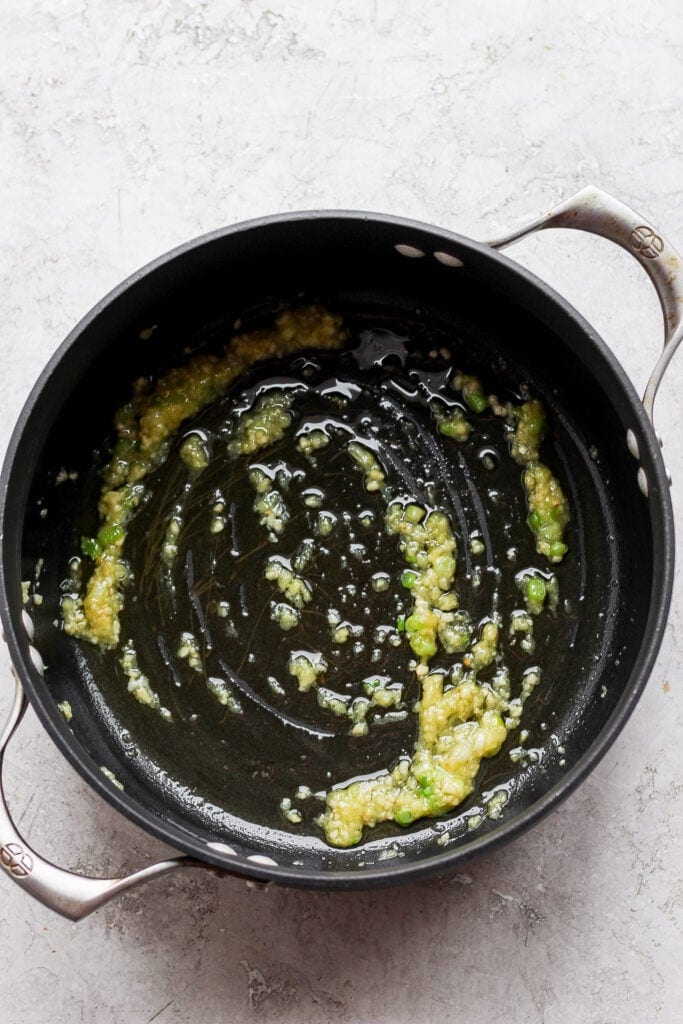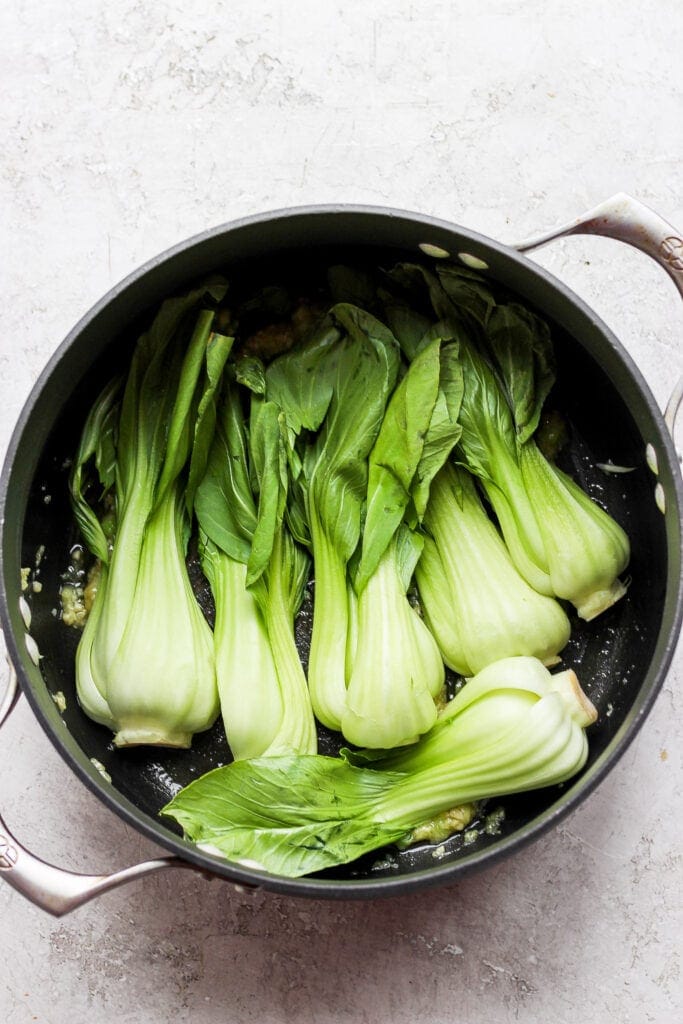 This wouldn't be a vegetarian ramen without a ton of veggies! Add the red peppers and carrots to the same pot that you cooked the bok choy in for 2-3 minutes.
While your carrots and peppers are cooking, remove the ramen eggs from the egg marinade and carefully set them aside.
Discard the tea bags and pour the broth through a fine sieve and into a bowl to sieve out any tea that may have become loose.
Pour this egg broth into the dutch oven with the peppers and carrots.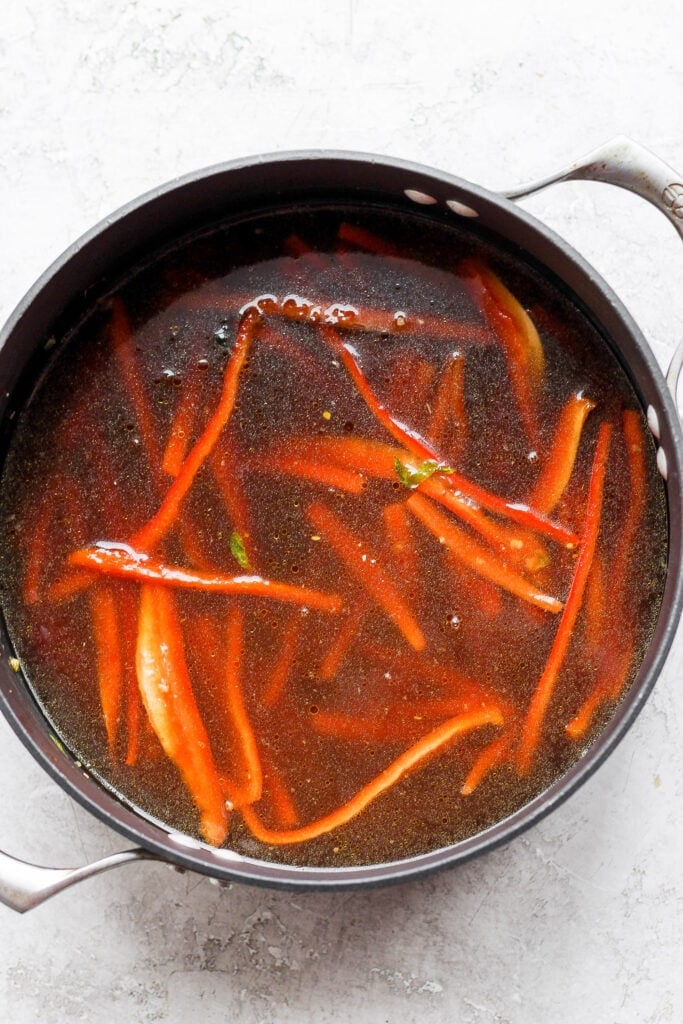 Finally, add the chicken broth, soy sauce, sriracha, and fish sauce to the dutch oven and whisk everything together until combined.
Bring everything to a boil and then add the ramen noodles to the pot and cook them until they still have a bite to them (about 5-7 minutes).
If you are planning to meal prep this ramen for the week, we suggest boiling the noodles in a separate pot, straining them, rinsing them in cold water, and keeping them separate from the broth until you are ready to serve.
The last step is serving the ramen! Turn the heat to low and add your bok choy to the pot to reheat.. When you serve the ramen in separate bowls add a halved ramen egg to each bowl along with the pickled mushrooms!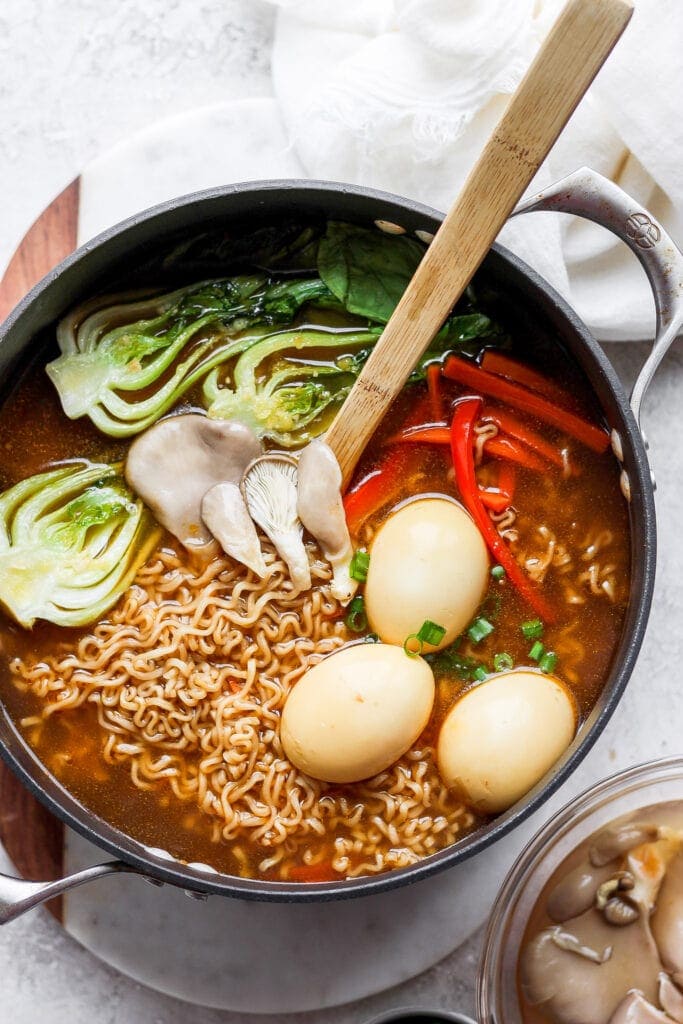 Where do I get ramen noodles for homemade ramen soup?
You have a few different options when it comes to finding ramen noodles for you ramen soup. Most grocery stores have dried ramen noodles. We used these noodles.
However, if you have some time we recommend going to your favorite ramen spot or Asian grocery store and ask them if they have any fresh ramen noodles! They are so much better.
Can I add meat to this ramen recipe?
Yes! Feel free to add shredded chicken, grilled shrimp, pork, or any other meat you'd like to add!
How do I make ramen spicier?
To make this ramen soup a bit spicier, add some sriracha, red pepper flakes, or your favorite chili sauce!
What else can I add to ramen soup?
Think of your favorite ramen take out and be inspired by the toppings! You can add anything your heart desires. Here are a few more ideas!
fried tofu
bean sprouts
sautéd greens
kimchi
sesame seeds
pea pods
We suggest storing the ramen separate from the ramen noodles. Store the ramen in an air tight container for 5-7 days.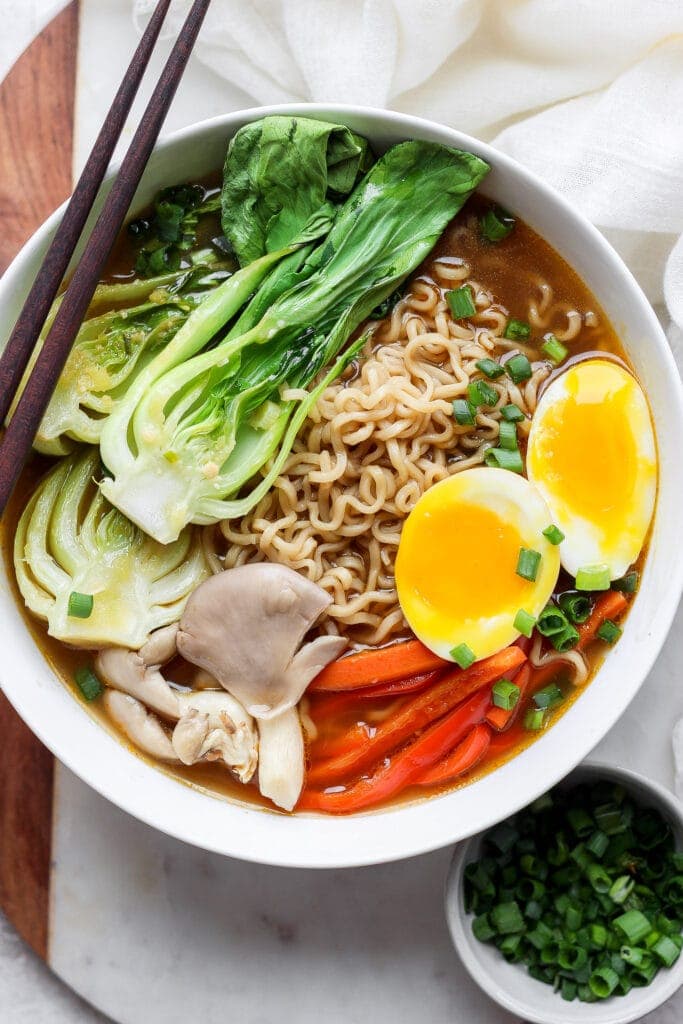 Ramen Eggs
6 large eggs 
6 cups water
2 tablespoons soy sauce (or tamari, for gluten free option)
2 teaspoons fresh grated ginger 
2 teaspoons fresh grated lemongrass 
2 teaspoons garlic chili sauce 
1 teaspoon fish sauce
2 black tea bags 
2 ginger tea bags 
Quick Pickled Mushrooms
8-oz. beech mushroom (or oyster mushrooms), wiped clean 
½ cup rice vinegar
½ cup apple cider vinegar
¼ teaspoon red pepper flakes
⅛ teaspoon salt
Ramen
3 tablespoons olive oil
4 green onions, white and green parts separated
2 tablespoons minced garlic
1 tablespoon freshly grated ginger
2 baby bok choys, quartered
1 large red pepper, sliced
2 medium carrots, cut into matchstick
¼ teaspoon salt
4 cups chicken broth (or vegetable broth)
2 tablespoons soy sauce
2 teaspoons sriracha 
1 teaspoon fish sauce
8-oz. Japanese-style ramen noodles (4 servings)
Optional Toppings
Ramen Eggs
Bring 4 cups of water to a boil in a medium saucepan and then remove from heat. 
Add the soy sauce, ginger, lemongrass, and fish sauce to the saucepan and whisk them together. 
Then, add tea bags to the saucepan and let the tea bags steep. Set aside.
In a separate saucepan bring 5 cups of water to a boil and carefully add 6 eggs. 
Allow the eggs boil for 5 minutes and then place eggs in an ice bath for 5 minutes. 
Carefully remove the eggshells from all of the eggs and place them in the black tea mixture. 
Let the eggs sit in the tea mixture while you prepare the mushrooms and the ramen (the longer the eggs soak, the better). Whatever you do, do NOT discard the black tea broth. This will be used later in the recipe! 
Mushrooms 
Place rice vinegar, apple cider vinegar, red pepper flakes, and salt into a medium sized bowl and whisk ingredients together. 
Add the mushrooms to the bowl and stir mushrooms into the vinegar mixture. 
Set mushrooms aside while you prepare ramen. 
Ramen 
Heat a large 5-qt. Dutch oven or pot over medium/high heat. Add olive oil. 
When olive oil is fragrant add just the white parts of the green onions to the pot (the green parts are used as a fresh topping) and sauté for 1 minute. 
Add the minced garlic and grated ginger to the green onions and sauté for 2 minutes. 
Next, add the quartered bok choy to the dutch oven and toss all the ingredients together until the bok choy is coated with oil. 
Turn heat down to medium and cover the dutch oven and let the bok choy steam for 4-5 minutes. 
Remove the bok choy from the dutch oven (leaving any garlic and onion in the dutch oven) and set aside. 
Add the red pepper and matchstick carrots to the pot and sauté the vegetables for 2-3 minutes. 
Carefully remove the ramen eggs from the liquid and set them aside for later and discard the tea bags. The remaining liquid is going to help flavor the broth of the ramen.
Pour the black tea mixture through a fine sieve to remove any loose tea. 
Then, add the black tea mixture to the dutch oven with red pepper and carrots. Stir to combine. 
Finally, add the chicken broth, soy sauce, sriracha, and fish sauce to the pot and whisk everything together and bring the broth to a boil. 
Once the broth is boiling, add the ramen noodles and cook for 5-7 minutes or until al dente.*
When the noodles are ready, add the bok choy and ramen eggs back into the Dutch oven to warm up (about 2-3 minutes)
Serve the ramen in large bowls and serve with pickled mushrooms, chopped green onion, thai basil, and cilantro. 
We suggest preparing this soup exactly how we write it out in the recipe card. There are certain parts of this recipe that need to be completed before you can move on to the next.
If you are not serving this meal right away we would recommend preparing the noodles separately.
Serving Size: 1/4
Calories: 304
Sugar: 7
Fat: 19
Carbohydrates: 18
Fiber: 5
Protein: 18
Author: Category: SoupMethod: Stove TopCuisine: Asian