Make this simple vegan pesto recipe with fresh basil, olive oil, lemon juice, and a homemade vegan parmesan cheese.
Pesto is such a fun way to flavor pastas, proteins, and anything in between. Our classic pesto recipe is a popular one on Fit Foodie Finds, but we wanted to make a vegan pesto that is sans dairy and cheese.
Simple Vegan Pesto
Going the extra mile to make a simple sauce to pair with any meal is always a good idea. You will thank yourself once you're ready to eat because sauces can enhance pretty much any recipe.
This vegan pesto is fresh, made with real ingredients, and is 100% plant-based. That's right, there's no cheese involved and it only takes 10 minutes.
Vegan pesto is made by pureeing fresh basil, olive oil, lemon juice, and homemade parmesan cheese together.
How is vegan pesto different from regular pesto? The main difference between the two is that regular pesto uses real paremsan cheese, which is not vegan. Vegan pesto uses a plant-based cheese (or no cheese at all) to make it vegan.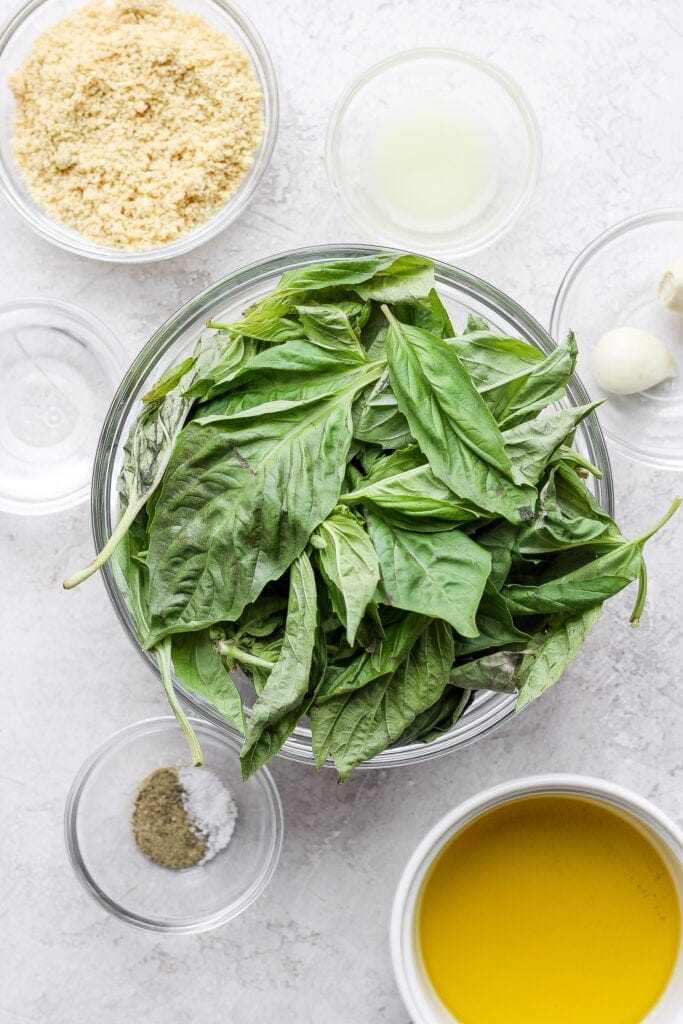 Fresh Flavors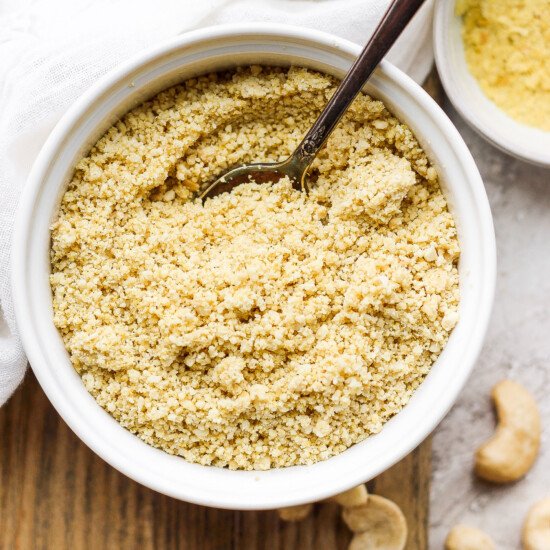 Make it!
Vegan Parmesan Cheese
Make this simple vegan pesto recipe with fresh basil, olive oil, lemon juice, and, a homemade vegan parmesan cheese.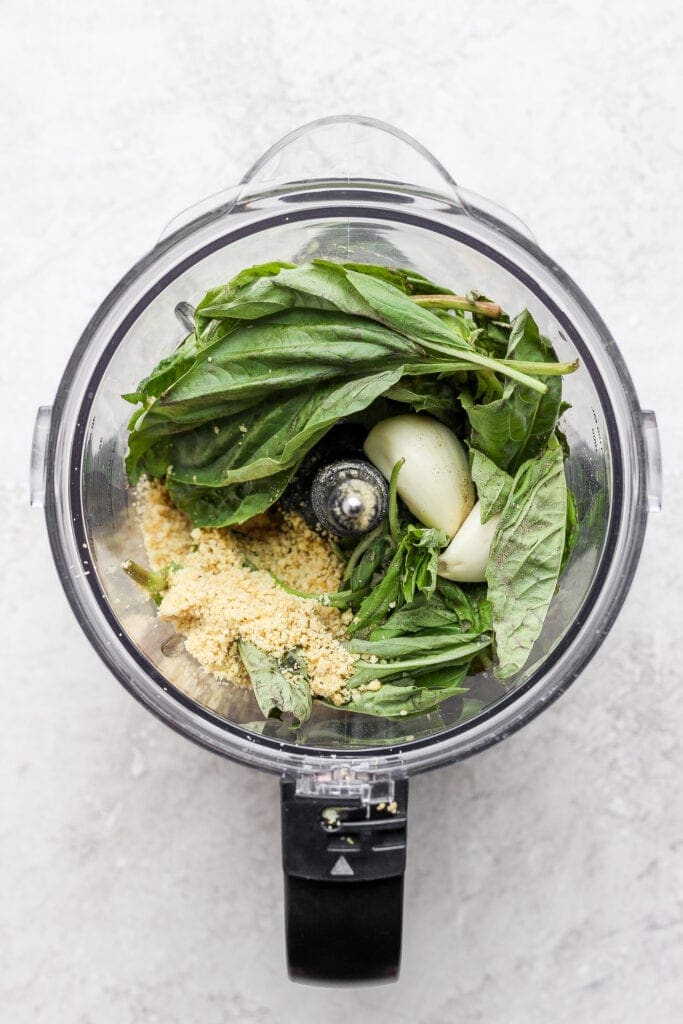 How to Make Vegan Pesto
Homemade Vegan Parmesan: First, make your homemade vegan parmesan. Follow our recipe. You only need 5 total ingredients and it will only take 5 minutes of your time.
Assemble Ingredients: Next, assemble all of the vegan pesto sauce ingredients into your food processor. Add fresh basil, vegan parmesan, olive oil, lemon juice, garlic, water, and salt and pepper.
Food Process: Pulse the ingredients together a few times and then process on low for 1-2 minutes, stopping to scrape the sides. Process vegan pesto until smooth.
too thick?
Is your vegan pesto a little bit too thick? Simply add a little water (or even olive oil) by the teaspoon until it thins out.
Too thin?
If things seem a little bit too thin, simply add more fresh basil. That should do the trick!
Add Other Herbs
Try adding other fresh herbs into your vegan pesto such as mint, parsley, or thyme! It will give your vegan pesto some depth.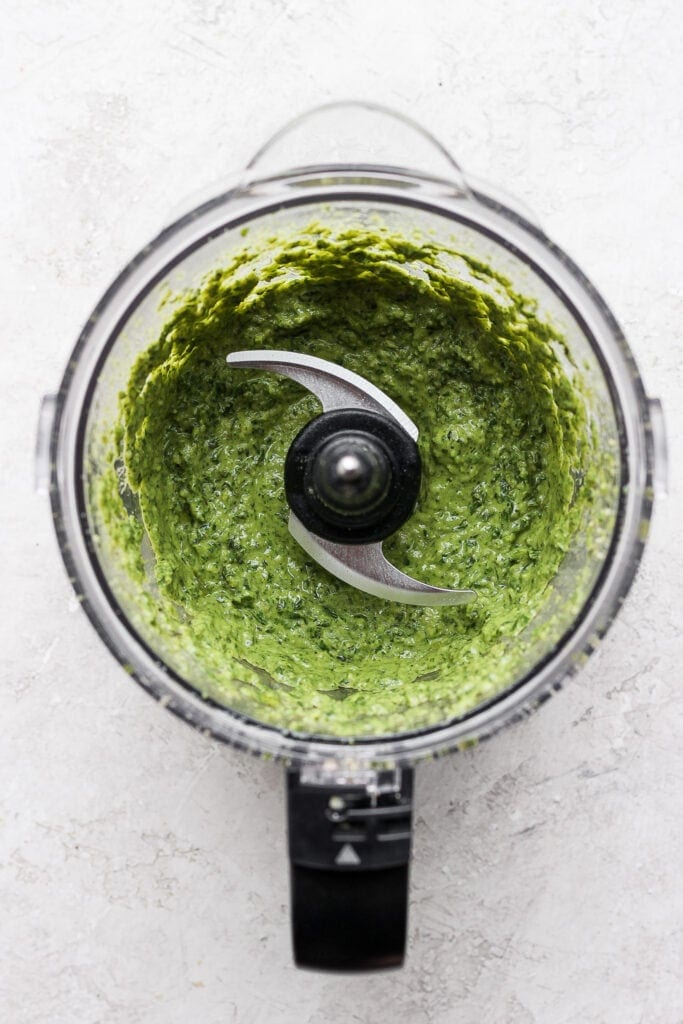 Serving Suggestions
Got vegan pesto? Now what? Here are some super simple ideas for how to eat this delicious sauce!
In pasta: toss this pasta with fresh pasta and cherry tomatoes for a light and delicious pasta.
As a marinade: try marinating tofu, veggies, or even garbanzo beans in this vgan pesto for a delicious mediterranean flare.
As a sauce: drizzle some vegan pesto on top of roasted potatoes, on top of a Buddha bowl, or even on steak (not vegan, we know)
Transfer pesto into an airtight container or jar and store this vegan pesto in the fridge for up to 5 days.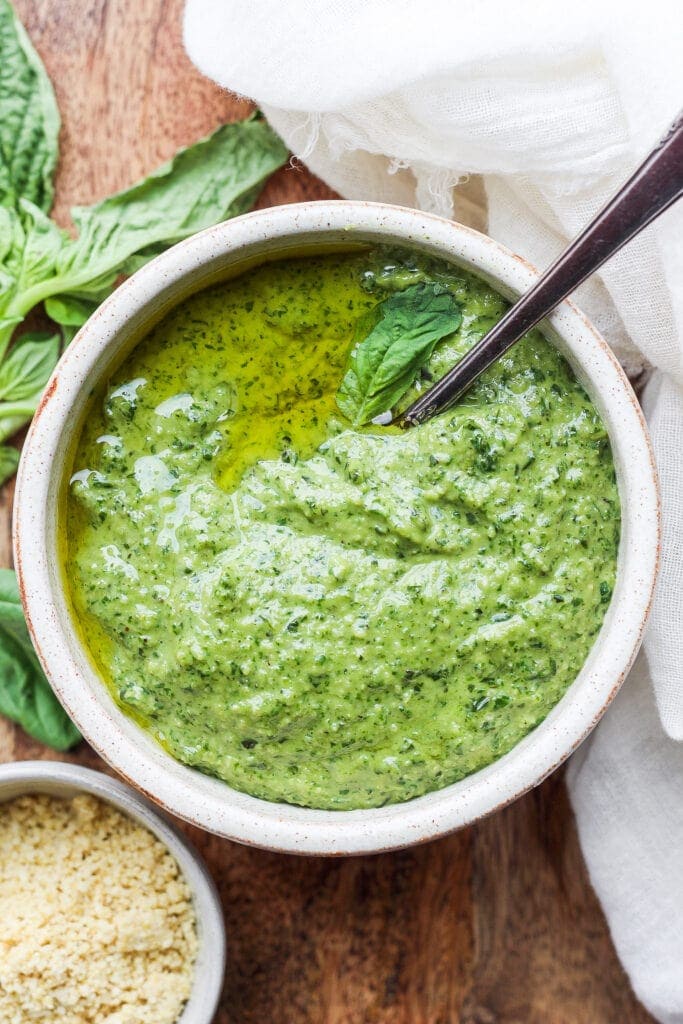 4 cups packed fresh basil
1/2 cup vegan parmesan cheese*
1/4 cup olive oil
1 tablespoon lemon juice
2 cloves garlic, peeled
2 tablespoons water
1/4 teaspoons salt
1/4 teaspoon ground pepper
Place all ingredients for the vegan pesto into a high powered food processor. 
Pulse the ingredients together for 30 seconds to combine the ingredients and then scrape the sides of the food processor. 
Then, process all the ingredients on low for 1-2 minutes or until a pesto forms. You may have to scrap the sides of the food processor a few times throughout this process.*
Toss the pesto with pasta, serve on a pizza, or store it in the refrigerator for later.
If the ingredients aren't processing together add a teaspoon of water at a time to the food processor until the mixture begins to form a pesto. 
Option to use store-bought vegan parmesan cheese.
Serving Size: 1.5 tablespoons
Calories: 160
Sugar: 0
Fat: 14
Carbohydrates: 7
Fiber: 0
Protein: 3
Author: Category: SauceMethod: Food ProcessorCuisine: VeganDiet: Vegan
Photography: photos taken in this post are by Erin from The Wooden Skillet.