The easiest, most flavorful pork tenderloin marinade you'll ever try. This pork tenderloin marinade recipe is sweet and salty made with BBQ sauce, soy sauce, and garlic.
Best Pork Tenderloin Marinade
Chewy, tough, flavorless pork tenderloin NO MORE! This is seriously the best pork tenderloin marinade that will leave your pork juicy and so flavorful.
Combine your marinade and let the pork sit in it for 4-12 hours and your tastebuds will be swimming. This marinade is made with 3 simple ingredients and in takes less than 5 minutes to prepare.
Once you've marinated your pork tenderloin, choose any cook method your heart desires and dinner is ready in no time!
What You Need
This 3-ingredient pork tenderloin marinade so so scrumptious. Best part? You probably have all of the ingredients on hand.
Soy sauce: soy sauce gives this marinade a delicious saltiness. Feel free to use normal soy sauce, low-sodium soy sauce, or tamari (for a gluten-free variation).
BBQ sauce: choose your favorite bbq sauce. We prefer a sweeter bbq sauce to balance out the soy sauce, but you can go smokey or salty. Your choice!
Minced garlic: when in doubt, add garlic.
Recommended Kitchen Tools
How to Marinate Pork Tenderloin
Ready to learn how to make the best pork tenderloin marinade recipe? It will take all of 10 minutes. Let's do it:
First, combine BBQ sauce, soy sauce, and minced garlic. Mix to combine.
Transfer your pork tenderloin(s) into a container such as a baking dish, gallon-size plastic bag, or Stasher bag.
Then, pour the marinade on top of the pork. Make sure the pork is fully covered in marinade and then remove as much as possible from your container. Seal.
Place the pork into the refrigerator to marinate for 4 to 12 hours.
Pork tenderloin is best when marinated for at least 4 hours or overnight. If you're short on time, make sure to marinate your pork for no less than 30-minutes.
This truly is the perfect grilled pork tenderloin marinade, but it's also perfect for baking, the Instant Pot, the sous vide, and every other cook method out there! Here's a quick synopsis on each of these methods.
In order to consume pork safely, make sure that the internal temperature is at least 145ºF.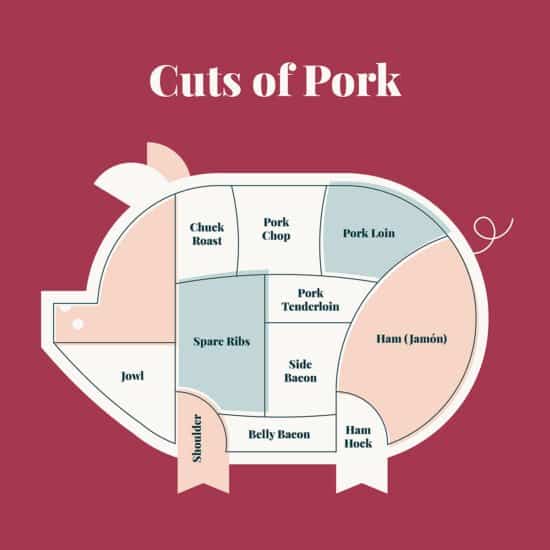 Cuts of Pork
Not sure where all the different cuts of pork come from on the pig? We made it easy. Check out more details on everything pork in our favorite pork recipes round up!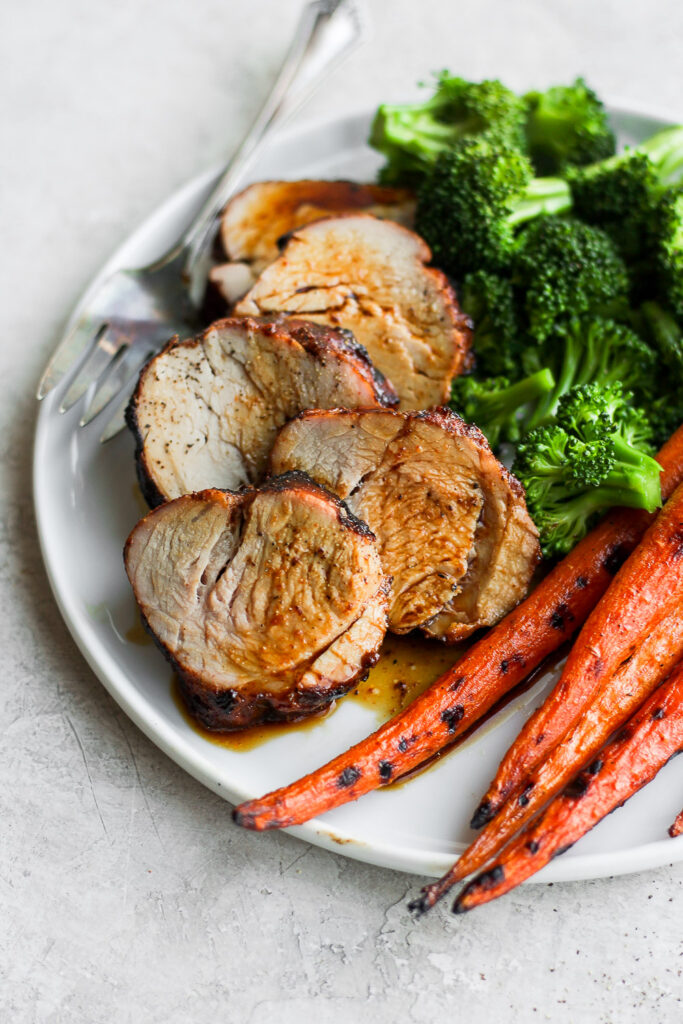 How long should you marinate pork?
We suggest marinating pork for anywhere from 30 minutes to 12 hours. The longer you marinate it, the juicier and more flavorful your pork will be.
Can you marinate pork tenderloin too long?
In some cases, you can marinate pork tenderloin for too long. If it contains an acid like citrus or vinegar, we suggest only marinading for 30 minutes to 4 hours. This pork tenderloin marinade recipe, however, does not contain either of those.
How do you tenderize pork tenderloin?
The best way to tenderize pork tenderloin is with salt. You can do this by sprinkling the meat with coarse sea salt and let sit for around an hour.
Should pork tenderloin be cooked slow or fast?
It all depends on what cook-method you are using, but since pork tenderloin is a lean cut of meat, we suggest low and slow or hot and fast.
Freeze your pork tenderloin directly in the marinade so that you can thaw it and make it anytime. We suggest using a gallon-size plastic bag.
Transfer the marinade and the pork tenderloin into the gallon-size bag.
Remove as much air as possible and seal.
Write Pork Tenderloin on the front of the bag and freeze for up to 3 months.
When you're ready to cook it, let it thaw completely and then use your favorite cook-method.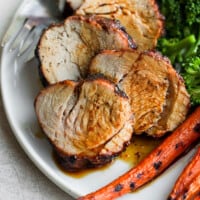 Easy Pork Tenderloin Marinade
A juicy pork tenderloin marinade made with sweet and salty flavors and only 3-ingredients – garlic, bbq sauce, and soy sauce!
Prep: 4 hoursTotal: 4 hours
Fat 3
Carbs 17
Protein 32
Yield 6 1x
1 tablespoon minced garlic
¾ cup BBQ sauce
¼ cup soy sauce
2-lb. pork tenderloin (we used 2 1-lb. pork tenderloins)
Combine minced garlic, BBQ sauce, and soy sauce in a medium bowl and mix.
Place pork into a baking dish, gallon-size bag, or Stasher bag and pour the marinade on top of the pork. Make sure it's fully coated.
Remove as much air from your bas as possible and seal (or cover your baking dish). 
Place into the refrigerator to marinate for 4 to 12 hours. If you are short on time, marinate for no less than 30 minutes.
Check out the following posts for cooking instructions: grilled, baked, Instant Pot, or sous vide.
Nutrition information includes the pork.
If you are feeling like you want even more flavor, feel free to season your pork tenderloin with 2 tablespoons of our famous pork dry rub before marinating.
Serving Size: 1/6
Calories: 226
Sugar: 14
Fat: 3
Carbohydrates: 17
Fiber: 0
Protein: 32
Author: Category: MarinadeMethod: No BakeCuisine: American
Keywords: pork tenderloin marinade, pork tenderloin marinde recipe
Photography: photos taken in this post are by Erin from The Wooden Skillet.